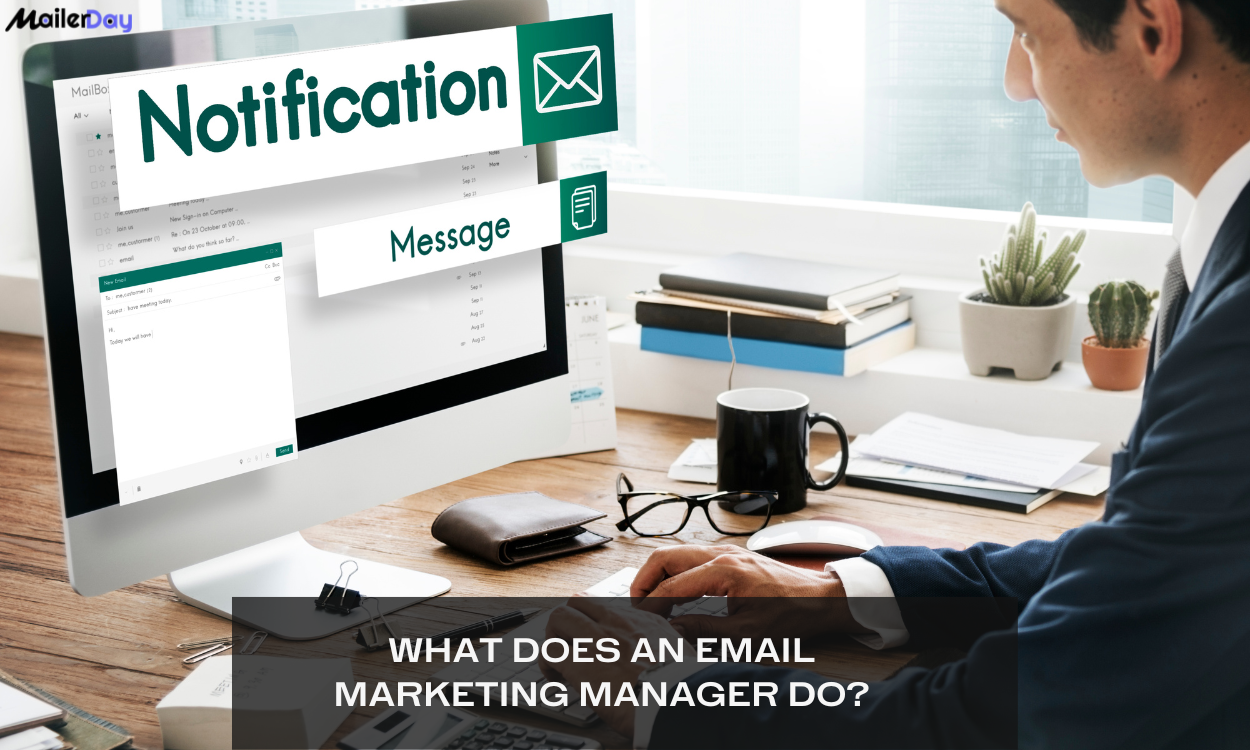 ---
An email marketing manager is the responsibility of a person who creates, manages, and develops an email marketing campaign. There are many important decisions taken by a manager for a successful email marketing strategy. From understanding business to making a report or email campaign, a manager does all the complete work.
In this blog post, we will understand the basics of email marketing, who an email marketing manager and what work they are doing in a company.
Look Also: 5 Common Email Marketing Mistakes to Avoid at All Costs
What is Email Marketing?
Email marketing is an online way to promote business products and services by sending emails to your potential customers. This marketing method effectively reaches out to your potential customers directly on their phones. This helps to make them aware of new products, discounts, meetings, and other offers.
This email marketing strategy helps generate leads, brand awareness, customer engagement, customer relations, and the company's reputation. This email marketing strategy also includes webpages, external links, social networking sites, blogging, and other channels.
Why Email Marketing is important?
Email marketing is an effective way to communicate with your audience. This marketing method helps in many different ways including
1. Direct Communication
That is an online communication channel where you can reach out directly to your audience worldwide. This marketing method does not work based on algorithms like other social media channels. You can communicate with subscribers and customers from different parts of the world.
2. Cost-Effective
Email marketing is a more cost-effective marketing method compared to many other marketing channels like print, PPC, SEO, television, etc. At the minimum cost, you can target your potential customers directly without spending money on showing ads to everyone. You can also automate email campaigns to reduce your workforce.
3. High ROI
Through email marketing, you can reach out to your potential customer directly on their phone. Well-executed email campaigns deliver higher ROI, generate more leads, increase sales, drive traffic, and more. You can track open rates, click-through rates, conversion rates, and other metrics to refine your audience better.
4. Customer Feedback and Trust
There are many email marketing regulations (e.g., CAN-SPAM, GDPR) that need to be followed to avoid scams. Because the email is given by users, we only target those customers who are interested in our business. You can collect valuable feedback from customers through surveys, reviews, or direct responses.
5. Adaptability
: This method is best for each type of business whether you are in e-commerce, B2B, nonprofit, small business, B2C, or another sector. Also, you can integrate different social media channels with your email including surveys, documents, web links, social media, and others.
Who is an Email Marketing Manager?
An email marketing manager is a person who is responsible for running a successful email marketing campaign for the company. They plan, develop, and create an email marketing campaign to target their customers.
A manager has an in-depth understanding of their company and customers. He is responsible for making all the crucial decisions for successful email campaigns including how the plan will be executed, strategy building, how to target customers, reviewing customer reviews, etc.
They collaborate with other team members like content writers, research analysts, designers, and others to set up an email marketing message. They always stay updated on email marketing trends, emerging technologies, and best practices.
What does an email marketing manager do?
An email marketing manager manages all the important decisions to create, manage, and develop a successful email marketing campaign. Here's a breakdown of what an Email Marketer typically does:
Campaign Strategy and Planning: Email marketers have an in-depth understanding of their business, customer, and email marketing techniques. They decide on what needs to be done, how the plan is going, how to target customers, what to exclude or include, and others.
Email Content Creation: They know about content creation. They know very well which type of content generates better leads, how to target customers, how to create compelling messages, and more. They create a compelling email message by adding quality content, visual images, videos, perfect CTA, etc.
Collaboration With team members: The manager collaborates with their team members to develop a perfect email marketing campaign. They include marketing directors, web designers, content writers, data analysts, and more. They have good communication skills, teaching skills, negotiation skills, and collaboration.
Update & automation: The managers are updated with new marketing trends, current tools, and automation setup for email marketing. Automation helps to reduce workforce and human errors. From planning to creating reports, there are many tools available to improve the quality of the campaign. The manager is comfortable with the use of these tools.
Monitoring & tracking: They monitor and track the performance of these campaigns to generate more leads. The creates perfect report after analyzing ROI, clicks, bounce rate, sales, conversion, and other things. They work on maintaining a clean list of potential customer to enhance their ROI.
Deliverability and Compliance: A manager ensures the deliverability of email by managing compliance email factors like sender reputation, authentication(SPF, DKIM, DMARC), and list hygiene. They understand email marketing regulations like the CAN-SPAM Act, and GDPR to maintain the ethical email practice. They can address deliverability issues, spam complaints, and technical problems.
How to Become an Email Marketing Expert?
Email marketing is a part of digital marketing. There are many institutes available that teach email marketing with their digital marketing course. An email marketer specializes in building email lists, nurturing leads, maximizing email iteration, and setting up automation.
You must have some basic understanding of marketing, buyer's persona, human behavior, and knowledge of tools.
A marketing manager always knows various strategies, tools, and templates to increase the mailing list.
A manager has good communication skills, collaboration skills, teaching skills, and negotiation skills.
Email experts can set a email automation, from generating leads to creating an email report for the business.
An email marketing manager needs to improve their copywriting skills and data analyzing skills to improve the quality of email campaigns.
There are many online and offline institutes available to learn about email marketing.
Conclusion
We can say an email marketing manager is quite important for the success of the email marketing campaign of a business. They are responsible for creating, developing, and managing the email marketing campaign. Email marketing experts know business needs, target audiences, automation software, marketing messages, and others. They collaborate with team members and focus on creating a perfect marketing strategy. They can send emails by maintaining all email regulations, sender reputation, and authentication protocols.
FAQ's
What is the Job Description for Email Marketing Manager? 
An Email Marketing Manager is responsible for planning, executing, and analyzing email campaigns. They create compelling content, manage lists, ensure deliverability, and optimize campaigns for business objectives. They collaborate with teams, stay updated on industry trends, and adhere to email regulations to drive engagement and conversions.
Why does a manager need to learn good communication skills?
Managers need strong communication skills to coordinate teams, convey strategies effectively, and engage with subscribers. With good communication skills, a manager can communicate their ideas effectively with their experts. It also helps in building relationships with subscribers and stakeholders.
What is the future of email marketing?
The future of email marketing looks promising with personalization, AI, and automation playing significant roles. Email is a vital communication channel that continuously evolving with interactive content and hyper-personalization. A better data analytics skill helps to improve the quality of email campaigns.
How to Measure the Success of an Email Marketing Manager?
An email marketing manager's success hinges on the achievement of campaign objectives, such as increased awareness, conversions, or lead generation. Success criteria of email marketing vary based on campaign scope and objectives. There are many standard performance benchmark that helps to measure the success of a campaign including open rate, click-through rate, bounce rate, unsubscribe rate, list growth rate, forward rate, mobile click rate, overall ROI, and engagement rate.