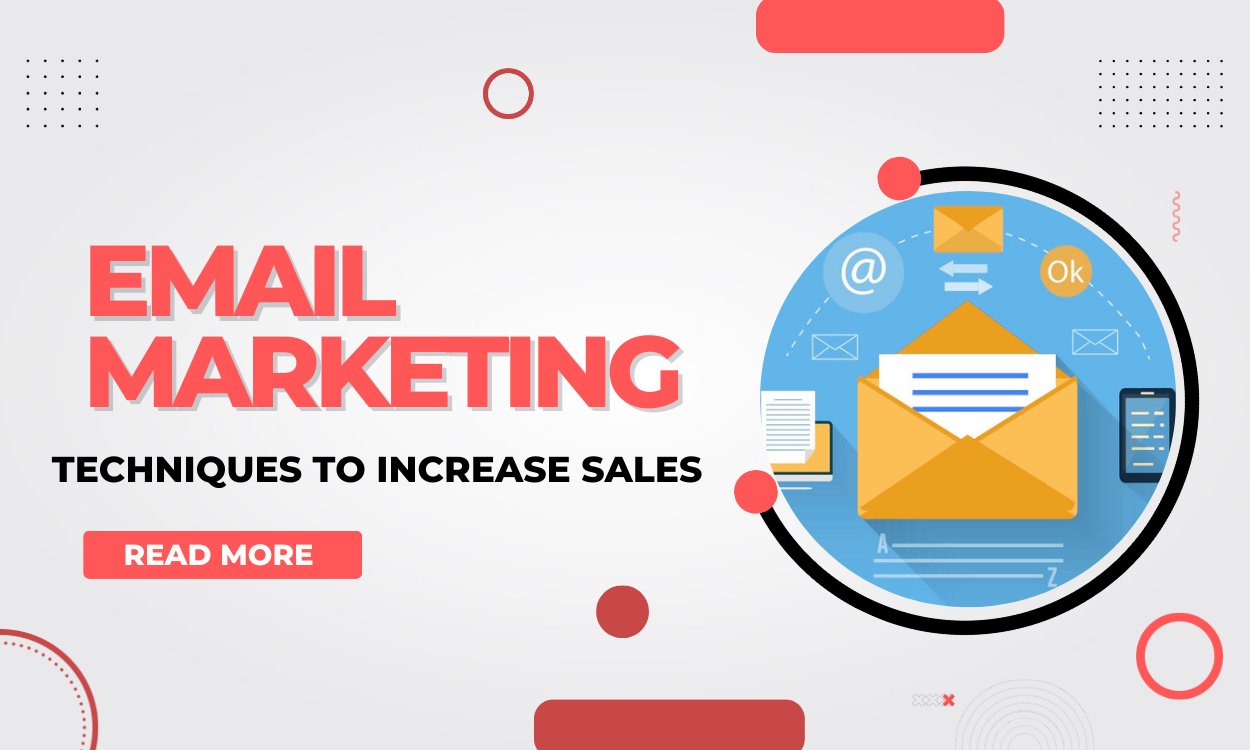 ---
One of the first and most powerful forms of digital marketing is email marketing. It is a type of digital marketing that uses emails to reach potential clients or customers. Emails are still a useful tool to use in digital marketing campaigns.
Effective emails have many benefits, including raising brand awareness, fostering stronger client relationships, enhancing company involvement, and boosting leads and sales. Increased income and return on investments are also closely tied to an effective email marketing strategy.
Effective Email Marketing Strategies to Generate More Sales
1. Get Personal
Without question, email customization is a fantastic strategy that has been shown to provide wonderful advantages for your mail efforts. Personalized promotional mailings offer 29% higher unique open rates and 41% higher unique click rates than non-personalized mailings, according to Invesp. The advantages are significantly greater. According to an Epson study, 80% of consumers are more inclined to purchase from a company that offers customized services.
Although it's nice to become more familiar with your customers, you must be careful not to go too far. Using names excessively can only make you appear odd to customers and ruin your reputation.
2. Keep Your Subject Lines Short
47% of email readers read the subject line before opening the message, while customized emails have a 22% higher opening rate. It demonstrates how crucial subject lines are to the success of your email marketing strategies for sales. However, data indicate that you should also pay attention to the number of characters utilized and the substance.
Emails with subject lines of 6 to 10 words have the highest open rates. Another fact that works to your advantage is the 22% increase in open rates for subject lines that convey urgency or exclusivity.
3. Pick the Right Time for Email Sending
When it comes to your email marketing strategies for sales percentage, timing is essential. By choosing the time carefully, you can boost your open and click-through rates, which you undoubtedly want to do. Another reason is that passionate consumers might wish to interact with your content. With that in mind, you ought to use all the resources at your disposal to figure out when would be ideal for them.
4. Give Away Freebies
Promotional freebies can boost your revenue and drastically increase the number of subscribers. You could be hesitant to offer something for free, but many subscribers enjoy this type of promotional content and are prepared to exchange their email addresses with you in exchange for it. Freebies like templates and tools are the most often used, with a click-through rate ranging from 26% to 66%.
5. Send Mobile-Friendly Emails
Consider sending a professional-looking email. However, when you open it on your phone, the graphics aren't visible, and the layout is poor. It prevents your subscribers from interacting. This circumstance may significantly impact the outcome of your campaign.
Cell phones are owned by 80% of Internet users, and this percentage is even expected to rise over time. As a result, you must always include a mobile-friendly design in your email marketing approach. No matter where subscribers read their emails, always deliver high-quality emails.
6. Segmentation
Due to its many advantages, segmentation has become a widely used email marketing strategy. It merely describes a data-driven process in which clients or consumers are classified according to details relevant to them.
These details could include, for example, demographics, actions taken or behavior, pages browsed, purchases made, and preferences or interests. Why is segmentation crucial to use while sending emails?
One reason is that your audience or customer base is never uniform. Thus, it would be unrealistic for you to treat them as such. You may better understand your target audience and meet their demands by recognizing differences and handling them skillfully.
Overall, segmenting your email lists while creating targeted lists will allow you to make considerably more money by making the most of your client or customer data.
7. Re-engage with Inactive Customers
If you don't try to offer interesting and timely material, you will lose about 25% of your subscribers each year. Although email list degradation is unavoidable, you can somewhat stop it. So, how do you keep your subscribers active, or to put it in another way – how do you get inactive subscribers active again?
Answering the queries above will help you determine the best email marketing tips, after which you can concentrate on developing the re-engagement campaign. The win-back might be carried out in a variety of inventive methods. Some choose "we-miss-you" campaigns, discounts, promotional codes, or perhaps both.
Conclusion
Always testing your email marketing strategy is the most effective way to learn what works best for your company. By doing this, you'll avoid typos, errors, bounces, and other issues that could have been avoided if test emails had been sent out before the official ones.
It's also crucial to remember that testing should be done continually and on the go rather than just sporadically. You may learn a lot about your subscribers' reactions by testing many iterations of the same email campaign. What works effectively and what needs to be improved in your upcoming campaigns will be clear to you.
FAQ's
What is email marketing?
Email marketing is a type of digital marketing where businesses send promotional emails to their subscribers with the goal of increasing sales or driving customer engagement.
How can email marketing increase sales?
Email marketing can increase sales by building relationships with subscribers, promoting products and services, and creating targeted campaigns that encourage subscribers to take action.
What are some best email marketing techniques to increase sales?
Some of the best email marketing techniques to increase sales include creating targeted email lists, crafting compelling subject lines, personalizing emails, using visuals and graphics, and including clear calls to action.
How can businesses create targeted email lists?
Businesses can create targeted email lists by segmenting their subscriber base according to demographics, interests, or purchasing behavior. They can also use lead magnets or incentives to encourage people to sign up for their email list.
---